About our Rugs
What materials are the rugs made of?
All Elementos Argentinos' rugs are woven with 100% natural pure sheep wool. We do not use polypropylene or other synthetic material. For this reason, our rugs are lavish, visually appealing, exceptionally smooth, easy to clean, eco-friendly and incredibly durable. Furthermore, pure sheep wool is a fireproof material, making it safe and stable.
How are the rugs made?
100% BY HAND. The wool is spun by spindle or distaff and we color it using either natural or mineral dyes that have UV filters. Once the desired tone is reached, the wool is washed again to properly set the color. Only then may the woven process begin, where the use of different sized looms allow us to provide a wide range of products to our customers: anything from a grand rug for a hotel to small bedside pieces. There are no machines involved in the process of production. Just the expert hands of our weavers that have been working with us for more than ten years.
Are Elementos Argentinos' rugs resistant?
YES! To ensure our rugs last many years in good condition, we submit them to usage simulators and laboratory tests, from which we have developed a balanced yarn with a torque that retains the softness of the natural wool while simultaneously optimizing its resistant, providing greater durability. With minimal care, these pieces can last many years in excellent condition.
Designs & Sizes
What happens if I want a different size, design, or color combination to those offered on the site?
How do you calculate the ideal size for a rug?
There is no such a thing as the "ideal" size for a rug. It will depend on the space available, but also on elements like the brightness of a room, the color of the floor or the style of the place.
If you have a good-sized living room, our recommendation is that the rug is placed 8" below the main chair, trying to contain at least the front legs of other chairs or armchairs and, of course, the entire coffee table.
If you have an extra-large space, then it is necessary for the rug to incorporate the entire living room set in order to divide it well into sectors.
In cases where you have a smaller space, we suggest the rug start at the edge of the couch, making sure it does not go under it (since this could shrink the space visually).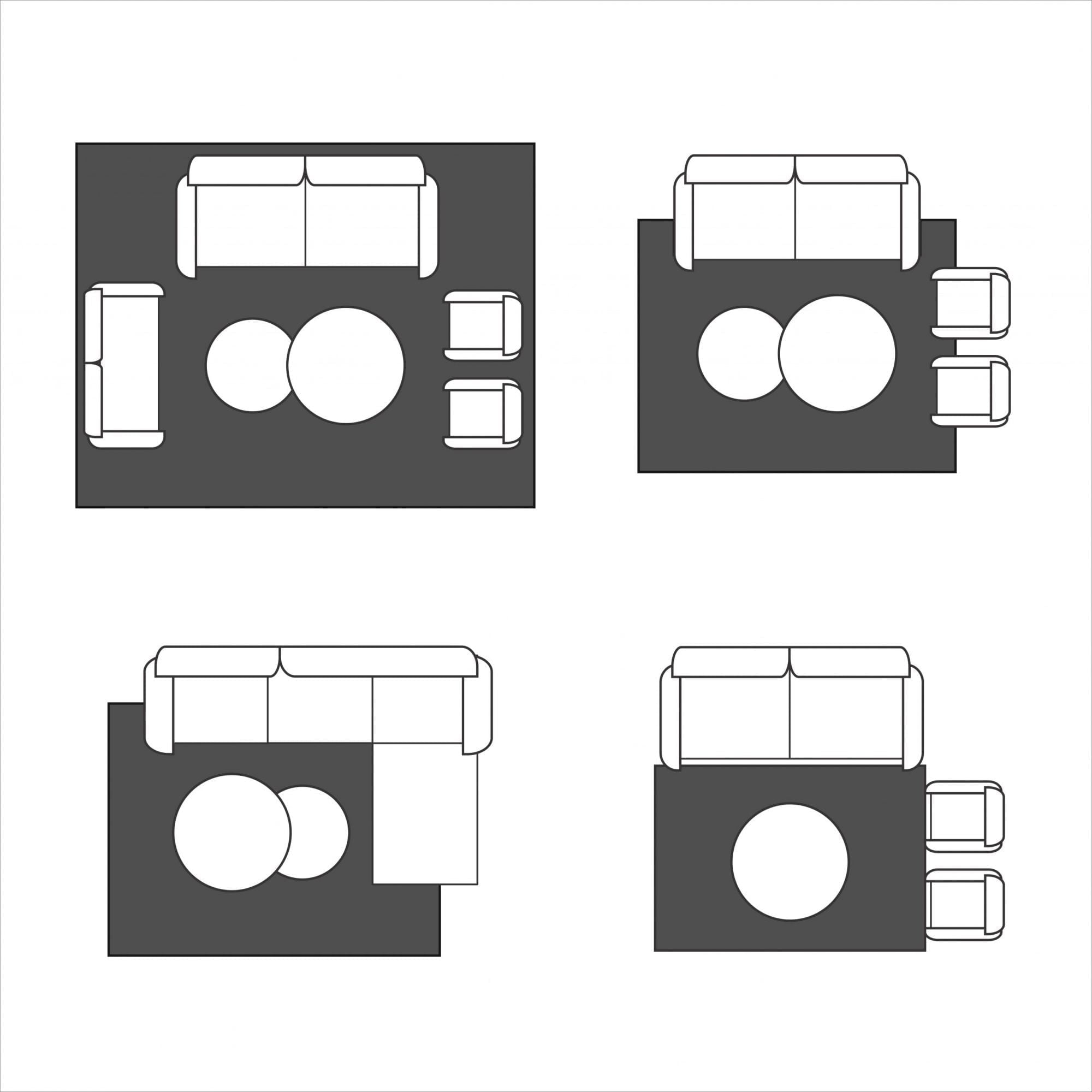 For a bedroom, use a similar criteria:
Will there be differences between the design I see on the website and the rug I receive?
Being unique pieces, made entirely by hand, there may be slight differences in the tone of colors, the size (+/- 4%), or the design pattern. In any event, our rugs are thoroughly checked, and they are sent to the customer only if they meet the strict quality standards we have worked with over the past decade.
How soon can I expect my rug after ordering?
The rugs in the 'In Stock Products' section of our Online Store, have immediate delivery.
In the case that you design your own rug, it takes 6 to 8 weeks to weave it, depending on the size and the complexity of the design.
Do you recommend the use of a non-slip pad underneath the rug?
Always use a non-slip pad under handmade rugs. The non-slip pad, a mesh mat that is laid on the floor and simply placed underneath the rug without the need to stick it or sew it to the rug, is vital for the following reasons:
Preservation: It protects the rug from the weight of furniture and provides added thickness, making the rug more plush and comfortable.
Safety: It secures your rug to the floor and prevents the rug from moving, providing more safety for everyday use.
Cleaning: It helps to keep the rug clean by sending dust and sand (which are abrasive and harmful to the fibers) through the weave and depositing them onto the floor underneath.
Colors
How do I know if the colors I see on my screen are real?
The various devices we use (laptops, home computers, phones, tablets, etc.) generate different colors of the same image. That's why we compared each of the colors available to the Pantone® Textile TPX international guide and created a Color Catalog available on the Online Store section of this website.
In order to be sure of the color you are about to choose for your rug, you may search it by code on the Pantone® Textile TPX guide or on the web (it won't be as accurate as having an actual guide, but it will give you a more precise idea of that color)
Pantone® is a recognized global authority on color, provider of color systems and leading technology for the selection and proper communication of colors for a wide variety of industries.
Do you send color samples?
Unlike what happens with industrial and machine made rugs, our rugs are made entirely by hand. For us, producing a color sample is like weaving a small rug and requires proportionally the same process as a large one. As this turns out to be operatively non-viable for us, we suggest to use the Pantone TPX Guide as a color reference.
Buying Online
Where can I buy Elementos Argentinos Rugs?
You can buy online one of our rugs at the 'Shop Online' section, create your own at the 'Design your rug!' section, or by visiting or calling us at one of the two stores we have in Buenos Aires, Argentina:
Palermo: Gurruchaga 1881 – Phone: +54 11 4832 6299 – Whatsapp +54 911 5496 1770 | Tuesdays to Saturdays from 11 AM to 7 PM.
Recoleta: Arenales 1239 – Rue des Artisans – Phone: +54 11 4811 0653 – Whatsapp +54 911 3155 5076  | Mondays to Fridays from 10.00 AM to 1.30 PM and from 2.30 PM to 7 PM.
More about buying online
You will see 3 sections on this website that allow you to buy our rugs wherever you are:
SHOP ONLINE: there you will find in-stock rugs that are ready to be delivered, and made-to-order ones in standard sizes and color combinations.
DESIGN YOUR RUG!: here you will be able to choose the design you want and play with sizes and color combinations until you create the rug of your dreams.
COLOR CATALOG: catalog of the colors available for the 'Design your rug!' section.
Payments Methods
Which are the online payment forms?
Foreign customers may pay with credit card via PayPal, or contact us for an international transfer.
How do I know if this shopping site is secure?
To ensure the security of online transactions of this site, we have chosen two of the most recognized and prestigious companies in the world: MercadoPago for our Argentinean customers, and PayPal for our international clients.
Shipping
What are the delivery options?
For international shipments we work with FedEx and DHL, since we've reached an agreement of special rates for our clients.
Shipments within Argentina, the Americas and Europe are free of charge for online purchases.
Are custom duties included in international free shipping?
Unfortunately not. International free shipments and paid shipments are subject to import fees, duties, and taxes (which are levied once a shipment reaches the destination country) in addition to the brokerage fees/custom clearance charges that may be imposed by the carrier. These charges must be borne by the recipient. Elementos Argentinos has no control over these charges and cannot predict what they might be.
For specific information, please consult with your local government import office.
If an international shipment is refused and/or returned, any taxes, duties, custom fees, brokerage fees, or shipping charges incurred from this return will be the responsibility of the customer.
Can I return my purchase?
All our international sales are final. We must mention, however, that we have not received a single complaint from customers who have purchased made to size rugs from us.